Miriam slept well last night after watching all of Cinderella. This morning she had more respiratory therapies and another PT session sitting in a wheelchair. It was very exhausting for her, but she was excited for the change. While we were sitting up we added some of the new cards which arrived at the house in the last few days. We actually opened them yesterday (I think… Daddy's brain has checked out).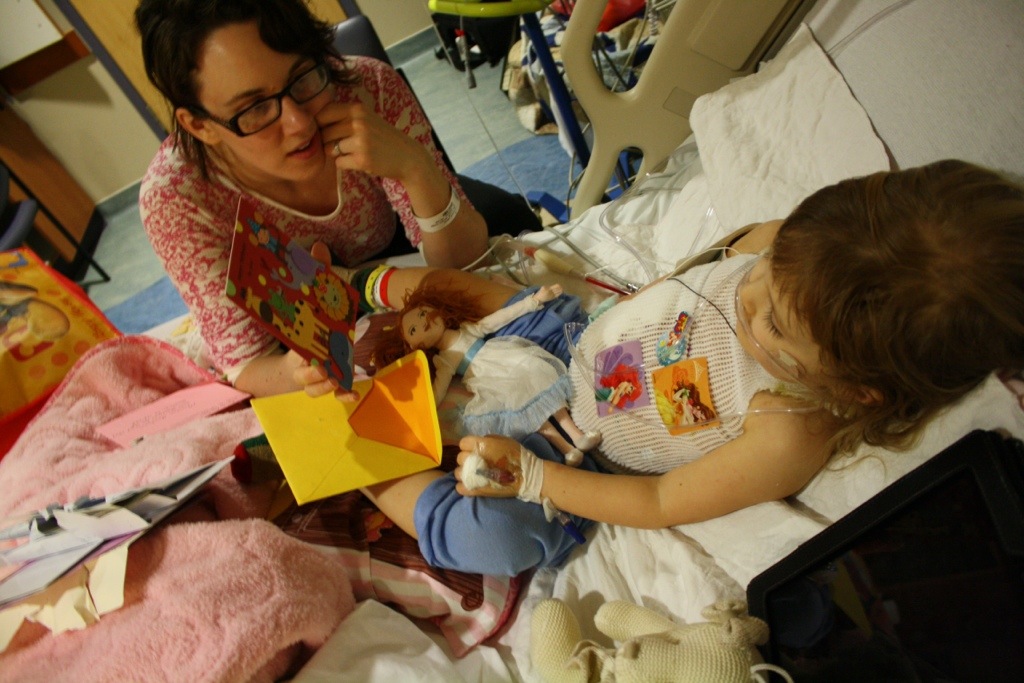 And then she helped stick them in the scrapbook. This is good exercise for her arms and torso, and made her very happy even when she asked daddy to finish the rest.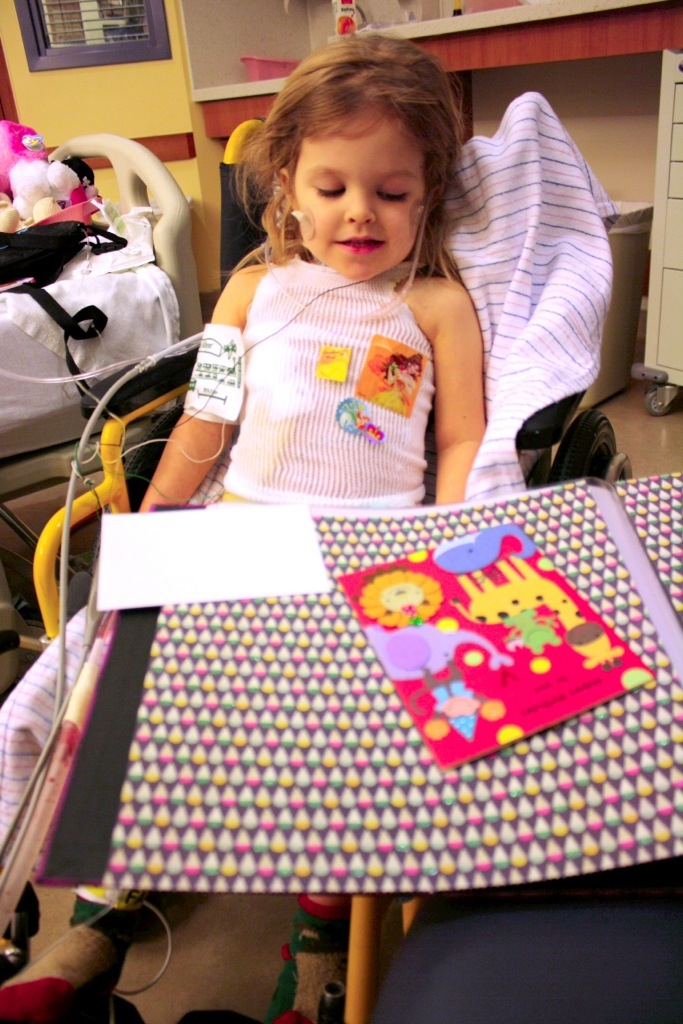 All this activity made her pretty tired, so Miso and mommy are taking a nap now. (Enjoy the picture while you can, mommy might make me take it down when she awakes.)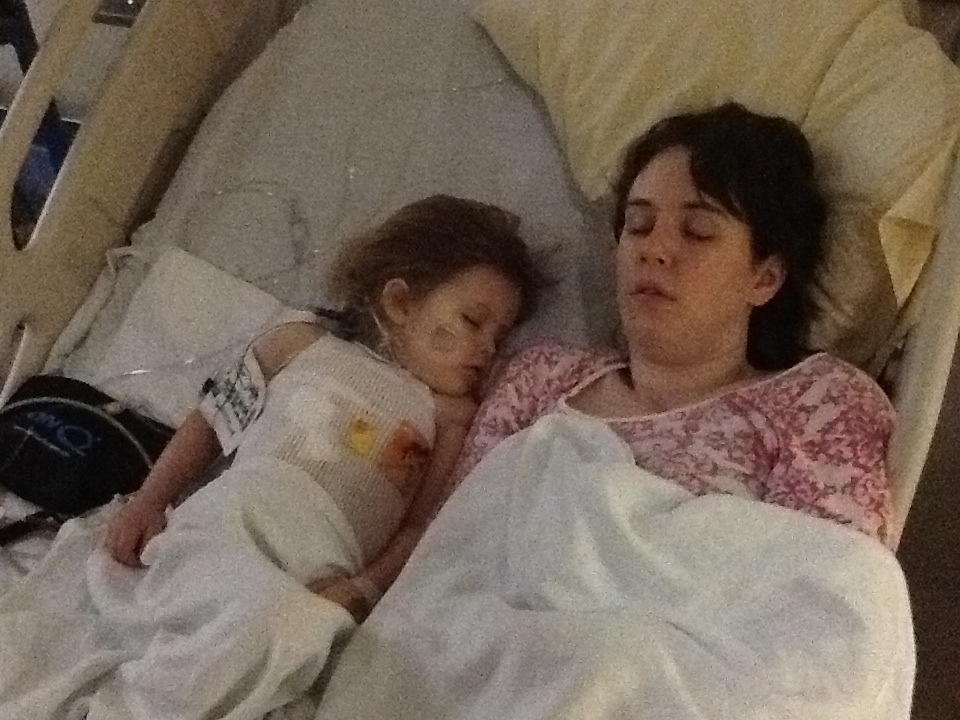 On the medical side, we've hit a hiccup with the chest tube. There appears to be fluid in her chest that is not draining. They have been trying a few different things to get it to drain, but if these do not work, she will have to go back to the OR later today to reposition or replace the chest tube. This would mean starting over the recovery process a little bit, though it would definitely be a little easier since the main wound continues to heal. We do not expect her to move from ICU today, as originally planned, but that might be for the best so that her back has more time and attention to heal.
We will keep you posted, and please keep the prayers coming.
UPDATE: After reviewing the X-rays (with a few additional eyes) Miriam's general surgeon is satisfied that there is not significant fluid build up in her chest. Her lung has still not fully expanded (which is expected), but he sees no need for additional surgery! They will do an anti-clotting treatment on the drain to make sure anything else hat wants to get out can. She just needs to keep up the respiratory therapies. And the more she can sit up the better.
We added a few particularly appropriate topics to the "teaching needs" section of the board to help with the draining…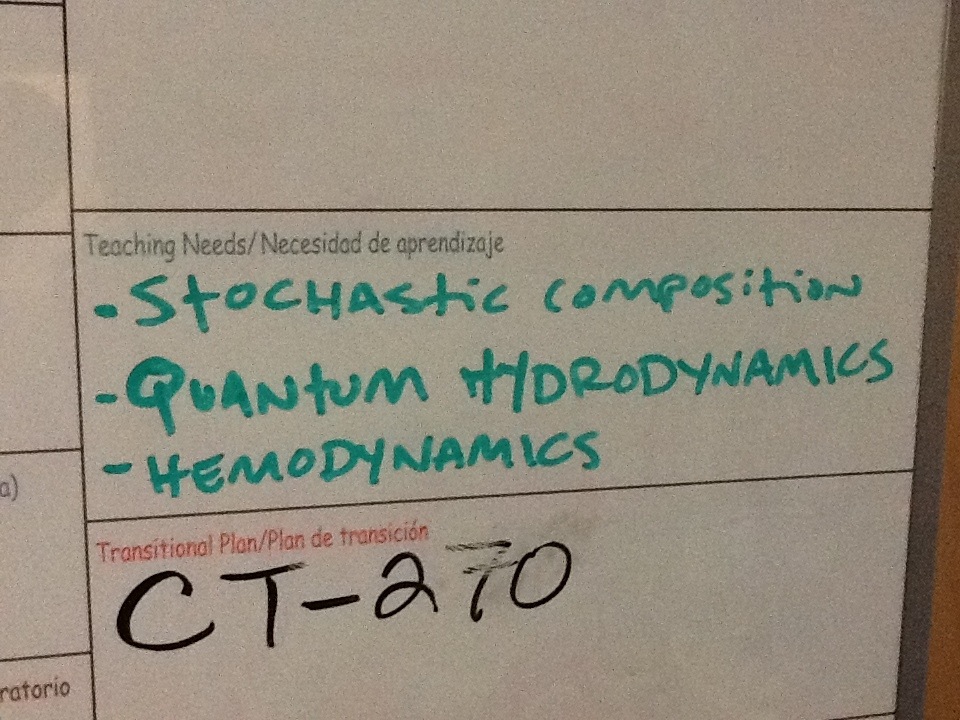 Grandpa got Miriam a puppy slide whistle, and Daddy brought bubbles and a kazoo. She likes those better than the breathing mask.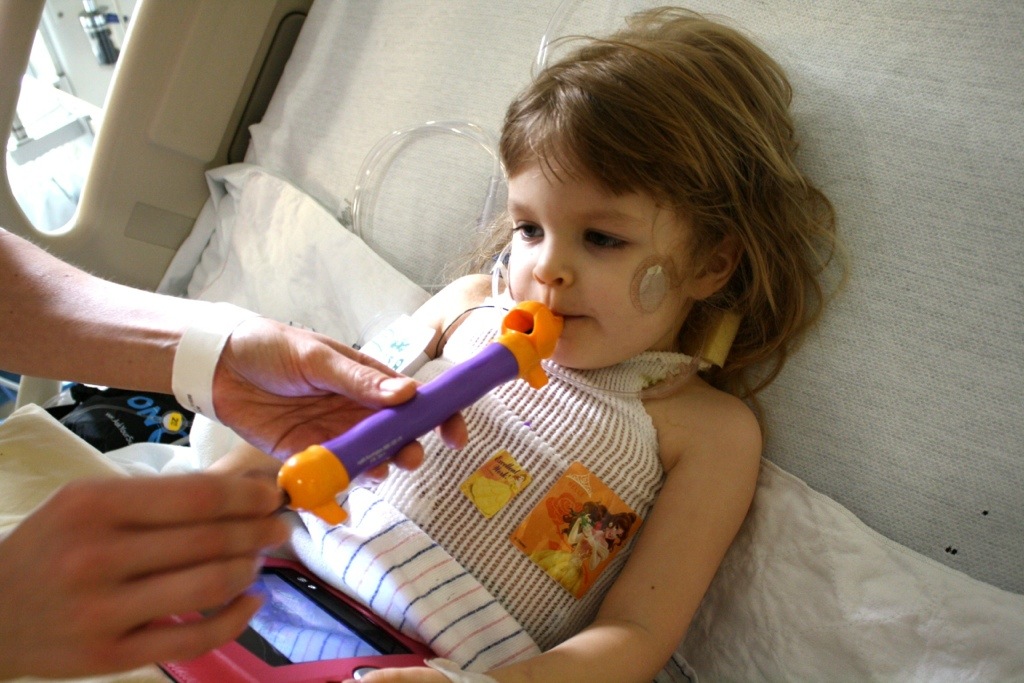 And Miss Emily (her Child Life Specialist form surgery and one of her bestest friends) came by to visit!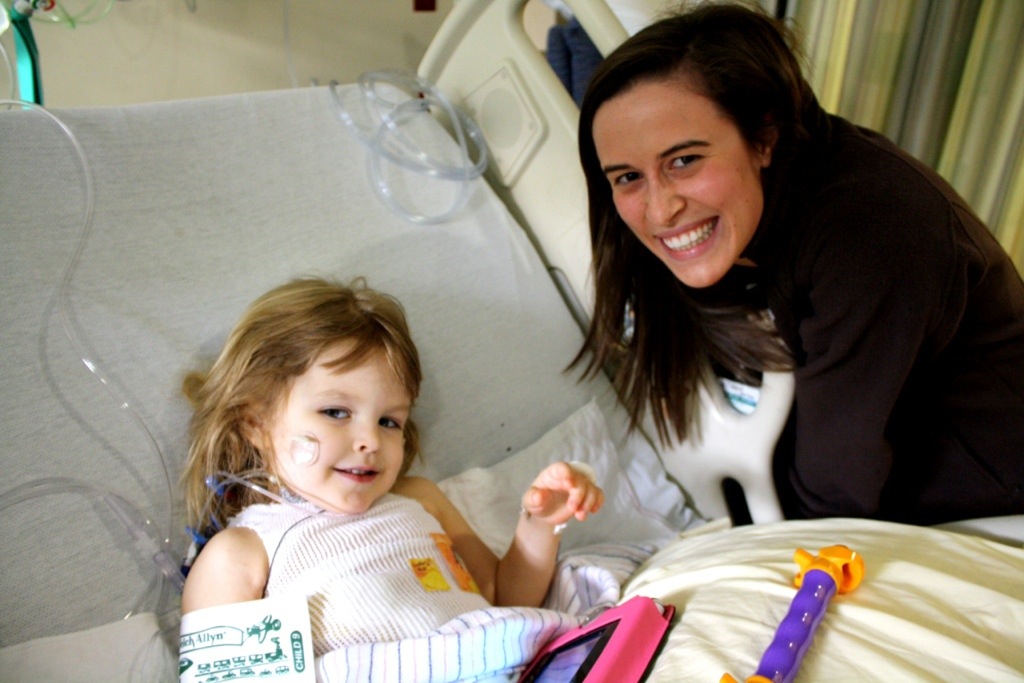 At 6:00 she finally had her anti-clotting treatment for her chest tube. They were backed up in surgery today. But she tolerated it very well, and even the initial X-ray at 8:00 showed improvement. It takes at least overnight for full effect, but that is very encouraging.
Pappateaux and Abeea came by after e treatment with tons of packages and more cards.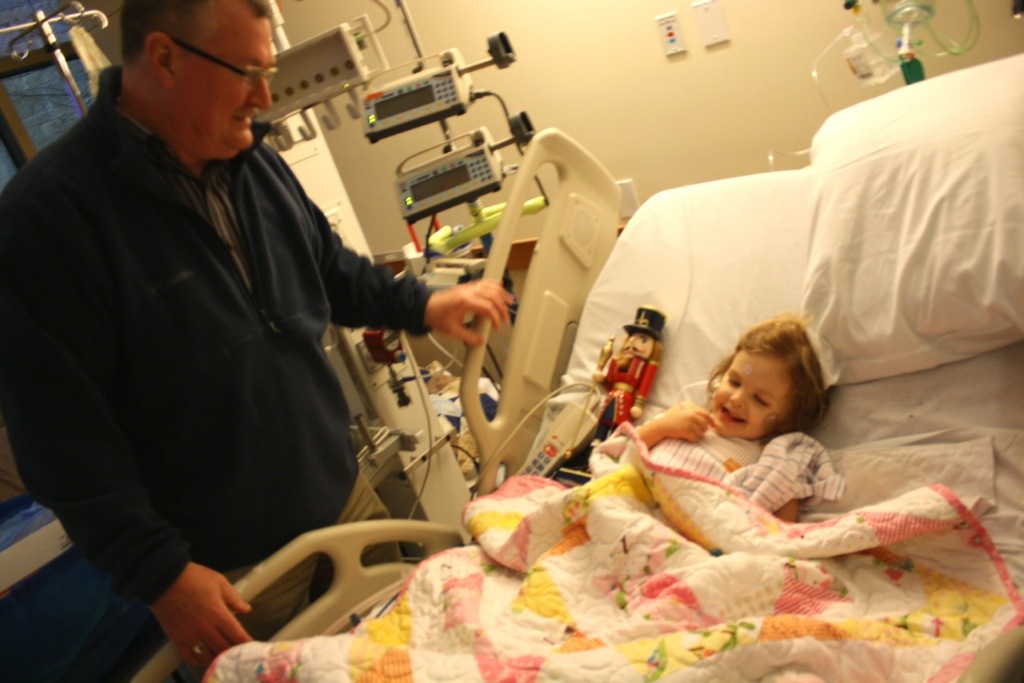 Pappateaux has to leave Friday afternoon. Today he took Cecilia to the Half Price Books and IKEA and Mighty Fine. She is having so much fun.
Miso ordered dinner and had her second full meal. She even fed much of it to herself.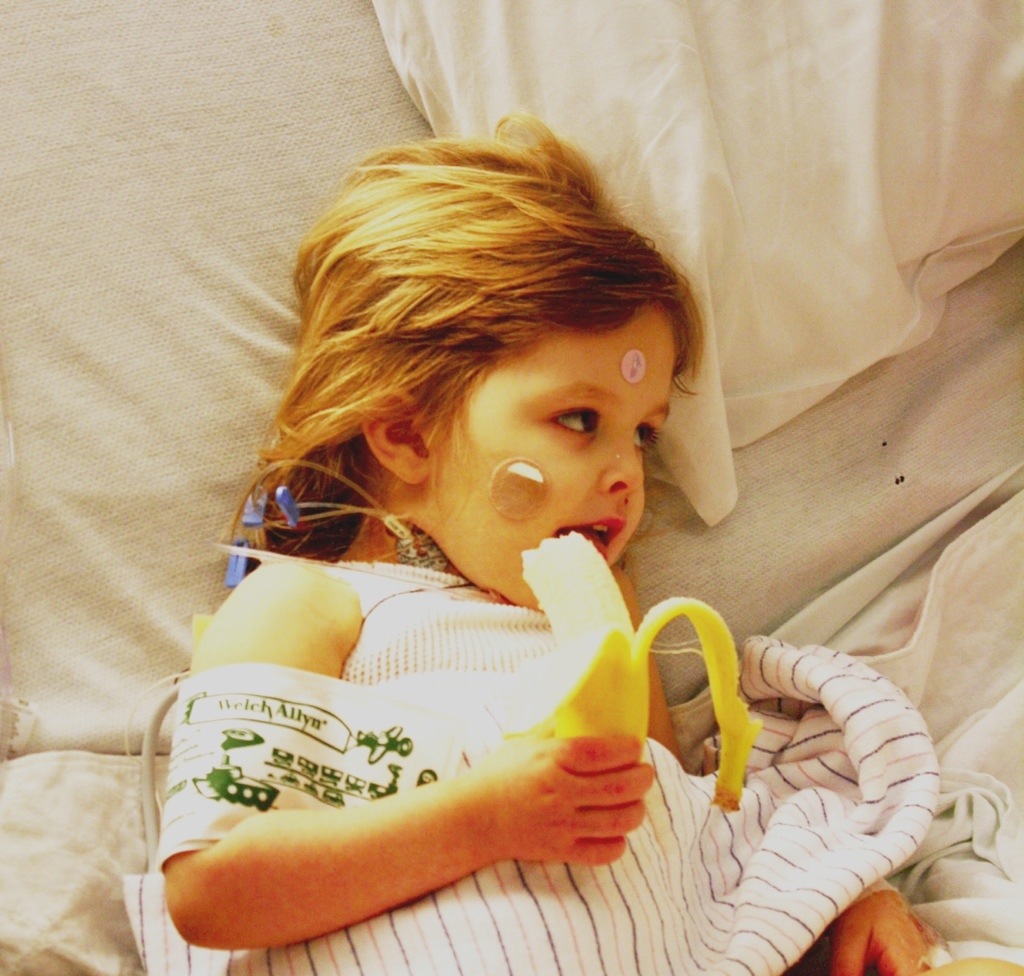 She has a normal appetite and has no dietary restrictions, so she can eat whatever she wants. And that meant a chocolate chip cookie after dinner.