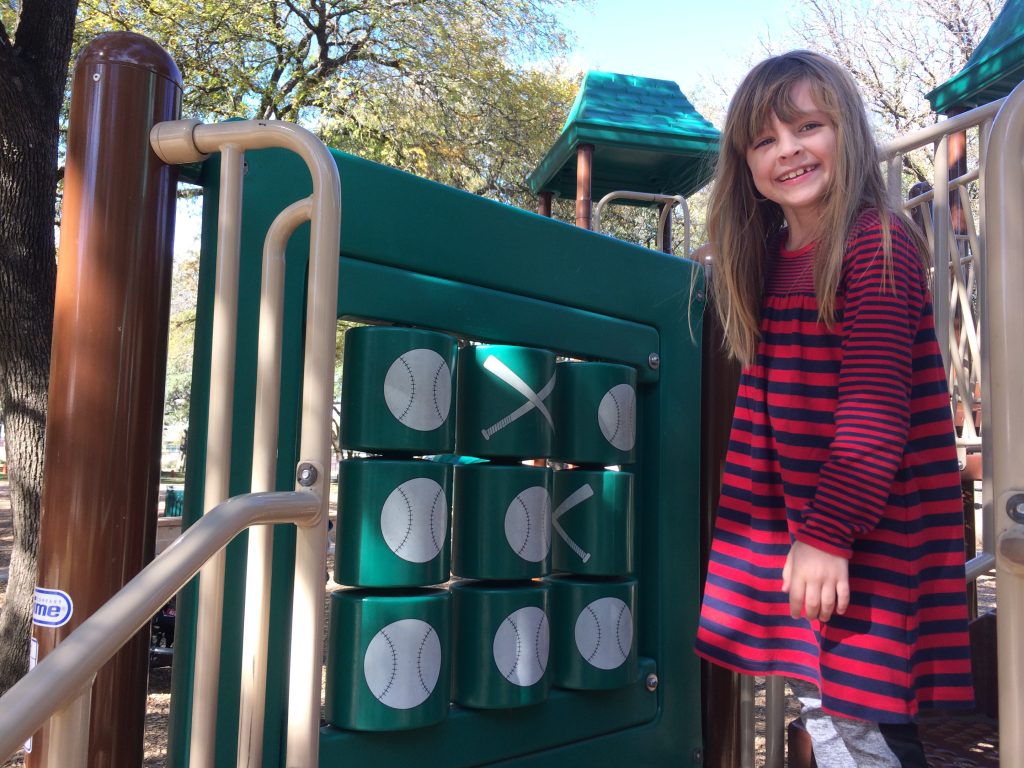 Miriam was originally scheduled for her regular six-month expansion today (Monday, Dec. 11). We went in for her pre-op visit last week expecting just to update health history and confirm a simple expansion of both rods.
You'd think we would know by now that it's never simple.
This time, Miriam's x-rays revealed that the lower anchor of her rib-to-spine rod (which is supposed to hook over one of her lumbar vertebrae) has become detached. And by detached, I mean that the tension in the rod has very slowly pulled the anchor through the bone until it has come free (in her doctor's terms, it has "migrated" through the bone). It's a surprise, but not a shock for a couple of reasons. First of all, it has happened before. The rod was originally hooked to the vertebra below this one, and after 18 months (Nov. 2014) it migrated through that attachment point. Second, the attachment point on her back has become really pronounced under the skin. It has always been noticeable, but it is really obvious now.
Because the hardware has pulled through two vertebrae in five years, her doctor wants to change anchors and replace it with one that screws into the bone of two vertebrae for reinforcement.This means the attachment point is going to be a little lower than it was before, which would mean extending the rod more than we normally would for just an expansion. This will shorten the useful life of this rod. Because it will need to be switched for a larger rod soon, her doctor is considering using this surgery as a chance to exchange her current VEPTR rod with a MAGEC rod. The great advantage of this would be that the MAGEC rod contains a rare-earth magnet mechanism that does not require surgery to expand. Instead, the doctor uses an external magnetic remote in his office to lengthen the rod in small increments. Miriam would need to visit the office for expansions four times a year rather than two, but this would mean far fewer hospital stays, less risk from anaesthesia, and much less risk for infection. She would still require surgery to expand her rib-to-rib rod as the MAGEC rod cannot be curved into the proper shape to replace that one, but her doctor is hopeful this would only need to be done once a year. The surgeries would only require one small incision, and that rod still has a lot of growth potential left.
We are currently waiting on the insurance to see if they approve the exchange to the MAGEC rod. It is costly, but the potential savings of avoiding even just one surgery will pay for the equipment. Whether or not her doctor does install the MAGEC rod, he will still be putting screws into her vertebrae for the first time. They have a piece of equipment at Dell Children's called an O-arm, which is a highly localized CT that allows the surgeon to get images of his work area in the middle of surgery. It was unavailable today, so the surgery was pushed back to Thursday (Dec. 14) when he can use it to see exactly where to safely install the screws. She will need to stay at least overnight in the hospital because of the invasiveness of the procedure. If her surgeon also performs the exchange to MAGEC she may stay two nights.
Though this isn't the news we wanted, we are continually grateful to Dr. Williams and all of those who worked to develop the VEPTRs and now the MAGEC rods. We can only imagine where Miriam's health and activity would be right now if her lungs were still locked in the tiny cage created by her fused ribs. Miriam is able to live most of her life as a totally normal kid. She added jazz dance on top of ballet this year, and sang a solo in her school's recent choir performance. She continues to love reading, writing, and doing all kinds of crafts and projects. Please join us in praying that she will be protected from further complication or infection through her procedure and recovery, and that she will bounce back in time for all of us to have a joyful Christmas together.